Data analysis
Levelling data
The submitted levelling data (geopotential differences or normal / orthometric heights) are checked and evaluated at the EUVN / UELN Data Centre in Leipzig Germany. The EUVN-DA markers, connected to a UELN benchmark are considered as part of UELN and they are involved in the subsequent UELN adjustments. Some countries provided only heights in their national height system, without direct UELN connections.Those submmissions were transformed into EVRF2007 using pre-defined transformation parameter sets.
GPS coordinates
The quality of the ellipsoidal coordinates is under the responsibilty of the data providers. Within the project no dedicated GPS processing facility could be established. A rough quality assessment could be extracted from the campaign and processing details provided by the NMAs.
GPS / levelling height anomalies
Beyond the internal data consistency check the most useful way is the comparison of the EUVN-DA height anomalies with the different European and local quasigeoid solutions. Using the ellipsoidal and levelled heights height anomalies are derived and compared against different gravimetric quasigeoid solutions and geopotential models. The European Gravity and Geoid Project (EGGP) has provided a series of continental quasigeoid solutions (EGG97, EGG03, EGG06, EGG07 and EGG08).
Statistics of the geoid comparisions
The table shows the difference of the height anomalies derived from EUVN-DA solution and several European quasigeoid solutions in numerical form.
RMS [cm]
max-min range [cm]
Country
Number of points
EGG97
EGG08
EGG97
EGG08
Austria
17
11
5
33
16
Belgium
8
7
3
19
7
Bulgaria
26
9
8
40
28
Croatia
20
20
4
80
13
Czech Republic
22
6
4
28
12
Denmark
42
3 
2 
17 
9 
Estonia
26
9
3
38
11
Finland
50
10
2
49
8 
France
168
12
7
69
36
Germany
85
10
3
45
13
Great Britain
182
18
12
73
51
Hungary
22
9
3
39
10
Italy
61 (+14)
23
10
90
46
Latvia
20
12
7
36
28
Lithuania
9
7
3
17
9 
The Netherlands
15
6
2
19
7
Norway
64
18
 5
84
22 
Poland
52
9
3
48
15
Portugal
81
21
7
123
26
Romania
43
15 
8 
82 
30 
Slovakia
26
18
3
71
9
Slovenia
12
12
3
39
11
Spain
172
12
8
80
36
Sweden
136
13
3
55
14
Switzerland
20
10
5
31
18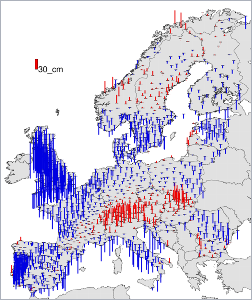 EUVN-DA - EGG97 comparison (click to enlarge)